Beauty - Health - Wellness
Acupuncture
1011 N. Craycroft, #304 (Craycroft/Speedway) | Tucson, AZ 85711
karreenandco@gmail.com | Google Maps | Office/Text: 520-327-4649

Karreen Martin, L.A.C., L.M.T., L.E., B.S., M.A.C.
What is Acupuncture?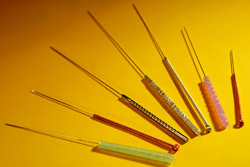 Originating in China more than 2,500 years ago, acupuncture is one of the oldest, most commonly used forms of medicine in the world. Acupuncture is currently one of the most thoroughly researched, practiced, and respected forms of Alternative Medicine available.
Acupuncture Benefits:
Alleviate and reduce chronic and acute pain

Stress reduction

Control chronic neck, back and sciatic pain

Reduce depression, sadness and grief


Reduce anxiety and stress

Alleviate digestive issues

Weight reduction

Mood enhancement

Reduce migraine pain


Reduce menstruation issues
Acupuncture Treatments:
Neck pain

Shoulder pain

Headaches

TMJ disorders

Tennis elbow

Carpal tunnel

Infertility

Insomnia

Low back pain

Hip pain

Allergies

Arthritis

Sports injuries

Menopause

Urinary infections

Chronic fatigue

Sinus congestion
If you are experiencing mental, emotional or physical discomfort, Acupuncture may enhance your overall health and wellness, but should not replace the advice from your primary care physician. I encourage my clients to work with their primary care physician to discuss all options and medical services. Together, we can educate and alleviate the signs and symptoms you are currently experiencing.
An unbalanced body occurs slowly and rebalancing will take time. Numerous treatments may be required if you are experiencing chronic pain. A holistic approach is required when creating an individualized therapeutic treatment plan.
Type of Needles Used During Treatment
Sterile, single-use disposable needles
Pulse Diagnosis
Pulse diagnosis is one of the most complex and important diagnostic techniques used in Chinese Medicine.
The overrall information required to diagnose an individual's overall constitution and Qi is obtained through feeling and evaluating your pulses. This information is used to create an individualized treatment plan.

Each individual's overall health and wellness is determined by the quality of the Qi (energy) flowing through the natural pathways within the body (aka meridians). Acupuncture stimulates and improves the overall Qi movement throughout the body.
Tongue Diagnosis
Tongue diagnosis uses the color, shape, thickness, lines, and size which provides the practitioner with an abundance of information. The tongue says a lot about an individual's current health and no two tongues are alike.